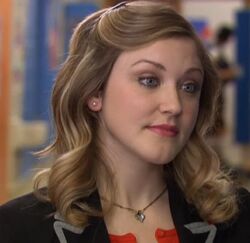 Tinsley is a British exchange student who attends Bennett High for a short time around the time of "Malone's Your Uncle". She fist appears in the episode where she meets Carl in the corridor.
Carl and Tinsley hit it off during their first meeting but she says that she won't date Carl until he has asked her uncle for permission. Carl agrees but has is nervous when he finds out Principal Malone is her uncle.
He goes to his office but bails at the last minute and volunteers to be the junior vice principle. Around Principal Malone, Carl is forced to be a model student, but Tinsley only wants to date a bad boy. When Carl's good boy/bad boy personas start to overlap, he must figure out how to stay out of trouble with Principal Malone, while still impressing Tinsley with his bad behaviour.