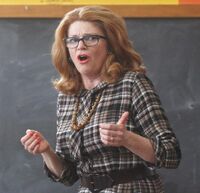 Mrs. Lennox is the English/Drama teacher at Bennett High who is known for being flighty. She could also talk to Carl while he was in the shadow dimension while no one else could not even angels. With the help off Mrs Lennox ability to speak to Carl in the shadow dimension Dr.Cassabi gave Lou and Carl the information needed to escape the shadow dimension in the episode School Spirit. After Carl was back in the real world Mrs Lennox didnt know about Porter and Dr. Cassabi being angels because the situation returned back to normal.
Ad blocker interference detected!
Wikia is a free-to-use site that makes money from advertising. We have a modified experience for viewers using ad blockers

Wikia is not accessible if you've made further modifications. Remove the custom ad blocker rule(s) and the page will load as expected.