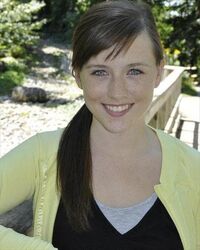 Kendra Timmins is an Canadian actress who is best known to this website for playing recurring character Denise Simmons.
Info About Kendra
17 or 19 year old Kendra Leigh Timmins has a love in musical theatre and has been training hard since a young age. In addition to attending high school and college programs that focused on, at age 12 Kendra has had voice training and been dancing for many years.
She is trained in styles including jazz, ballet, hip hop, tap and modern dance. A natural performer, she has held several lead roles in plays. Kendra currently plays the character Denise Simmins in Disney XD's Wingin' It is her first lead recurring role in a series. She has guest starred in an episode of My Babysitter's A Vampire. Kendra is also fluent in French and trained in gymnastics. She plays Denise in Wingin' it.
Kendra has brown hair, blue eyes, and freckles, very pale skin, and a picture of her is just on the side.
External Links
Ad blocker interference detected!
Wikia is a free-to-use site that makes money from advertising. We have a modified experience for viewers using ad blockers

Wikia is not accessible if you've made further modifications. Remove the custom ad blocker rule(s) and the page will load as expected.