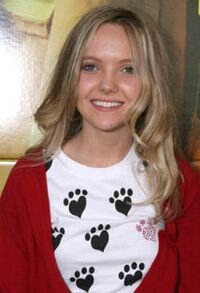 Hannah Lochner (born July 28, 1993) is a Canadian actress.
She has appeared in number of made-for-TV films and in a number of Canadian television series such as Life with Derek, Wild Card. But she is perhaps best known for her opening scene as Vivian in the 2004 film, Dawn of the Dead. She also has a number of films that have not yet come out and that she is currently filming.
She has graduated from Etobicoke School of the Arts and currently is starring in tv shows and movies. She is also starring as Brittany Hanson in the new Canadian show Wingin' It .
External Links
Ad blocker interference detected!
Wikia is a free-to-use site that makes money from advertising. We have a modified experience for viewers using ad blockers

Wikia is not accessible if you've made further modifications. Remove the custom ad blocker rule(s) and the page will load as expected.