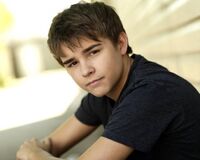 Dylan Everett (born January 24, 1995) is a Canadian teen actor.
He is best known for his breakout roles in How To Be Indie and Wingin' It where he plays main character Carl Montclaire.
At just 14 years of age, Dylan Everett is already an award-nominated television actor. He has starred in several popular series since the age of 10. You might have seen him in The Latest Buzz. Dylan Everett also has a role in Degrassi as Campbell 'Cam' Saunders. He is currently not in Degrassi anymore, his character commited suicide.
When's he not acting, Dylan enjoys dancing, playing guitar and the drums. He is also very athletic, participating in both indoor and outdoor sports such as volleyball, golf, skateboarding, wakeboarding, snowboarding, hockey and soccer.
External Links