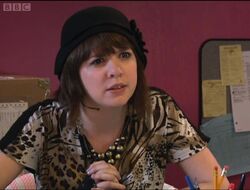 Courtney (Kayla Lorette), first seen in "Hold the Dressing", is the name of the manager at the Failed State store where Carl works for the episode.
She interviews Carl and then says that it depends how he well we works on the first day to if he gets the job. She hires Carl in stock but after a customer says she wants Carl to help her to pick out a dress, she forces him to help even making Carl try on a dress when the customer mentions it.
Appearance
She is a young women whose age is somewhere between teens and twenties who has brown hair on which she wares a black hat. She wears a leopard pint T-Shirt and Black high heel boots.