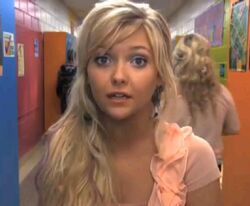 Brittany (Hannah Lochner) is the prettiest, most popular girl at Bennett High. She comes from an upper-class family. She considers herself a triple threat and is always willing to share her talent with the people around her.
But the one and only thing standing in the way of Brittany's stardom is her complete lack of talent. She can't carry a tune or dance her way out of a paper bag. But when you're the most popular girl in school, who is going to tell you that you are bad at doing it?. She appears in most episodes.
In Live and Let Fly at the ending credits Denise beams down with Dr.Cassabi to tell her that she's an angel and that shes her assignment.
Shadow Brittany
Brittany is a nerd in the shadow demension. She is a friend of Serge and she is quite concered about the eco-world and recycling.
Ad blocker interference detected!
Wikia is a free-to-use site that makes money from advertising. We have a modified experience for viewers using ad blockers

Wikia is not accessible if you've made further modifications. Remove the custom ad blocker rule(s) and the page will load as expected.