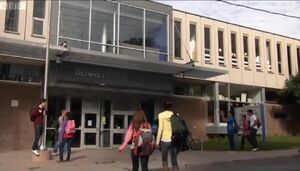 Bennett High is the name of the school where majority of Wingin' It's characters either work or attend school.
They have a soccer, football, netball, baseball, basketball, soccer baseball, rugby, volleyball, wrestling, ball hockey, field hockey and badmition teams.
Bennett High also have a range of after and during school clubs. They include orogarmi, hidtory, etc, etc.
Students
Teachers
Events
Ad blocker interference detected!
Wikia is a free-to-use site that makes money from advertising. We have a modified experience for viewers using ad blockers

Wikia is not accessible if you've made further modifications. Remove the custom ad blocker rule(s) and the page will load as expected.