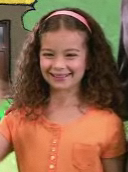 Becky Montclaire is the little sister of Carl and daughter of Angela Montclaire.
Eight-year-old Becky is cute as a button, clever as can be and busily involved in all the things girls her age find themselves preoccupied with: dressing up, friends, school projects, dancing and skating. She is a happy kid, with loads of friends.
Trivia
Her nice behavior towards Carlie in the episode I Carlie might imply she wanted to have a big sister instead of a big brother.
Ad blocker interference detected!
Wikia is a free-to-use site that makes money from advertising. We have a modified experience for viewers using ad blockers

Wikia is not accessible if you've made further modifications. Remove the custom ad blocker rule(s) and the page will load as expected.